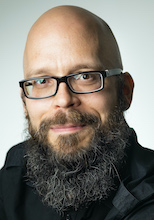 Jouni Tuominen is a researcher in Subproject 2 (National Linked Open Data Service of Archaeological Finds in Finland), based at Aalto University and HELDIG – Helsinki Centre for Digital Humanities. He received his D.Sc. (Tech.) on ontology services for knowledge organization systems. His research interests include ontology repositories and services, linked data publishing methods, ontology models for legacy data, and tooling for digital humanities. He has collaborated with museums, libraries, and archives on their collection cataloging and cultural heritage data publishing processes.
Selected publications:
Jouni Tuominen, Eero Hyvönen and Petri Leskinen: Bio CRM: A Data Model for Representing Biographical Data for Prosopographical Research. Proceedings of the Second Conference on Biographical Data in a Digital World 2017 (BD2017), vol. 2119, pp. 59-66, CEUR Workshop Proceedings, Linz, Austria, 2018.
Jouni Tuominen, Eetu Mäkelä, Eero Hyvönen, Arno Bosse, Miranda Lewis and Howard Hotson: Reassembling the Republic of Letters – A Linked Data Approach. Proceedings of the Digital Humanities in the Nordic Countries 3rd Conference (DHN 2018), Helsinki, Finland, March, 2018.
Esko Ikkala, Jouni Tuominen and Eero Hyvönen: Contextualizing Historical Places in a Gazetteer by Using Historical Maps and Linked Data. Proceedings of Digital Humanities 2016, short papers, pp. 573–577, Kraków, Poland, July, 2016.
Eero Hyvönen, Erkki Heino, Petri Leskinen, Esko Ikkala, Mikko Koho, Minna Tamper, Jouni Tuominen and Eetu Mäkelä: WarSampo Data Service and Semantic Portal for Publishing Linked Open Data about the Second World War History. The Semantic Web – Latest Advances and New Domains (ESWC 2016) (Harald Sack, Eva Blomqvist, Mathieu d Aquin, Chiara Ghidini, Simone Paolo Ponzetto and Christoph Lange (eds.)), pp. 758–773, Springer-Verlag, May, 2016.
Other information