Introduction to this blogpost
This is Part II of the two-part blog post on the interview with Prof. Kimmo Nuotio on his thoughts and recollection of the China Law Center, as well as other aspects of Chinese collaboration, including the Belt-and-Road Initiative. The interview has been done by our research assistant, Ngor Sin. Part I can be found here.
In Part II, we cover Prof. Kimmo Nuotio's participation in Belt and Road Initiative-related projects, and his general experience of collaboration with Chinese scholars and education institutions. He also gave very insightful comments on his personal approach of how to collaborate with Chinese colleagues.
New Silk Road Law Schools Alliance and the related publication
One of the biggest efforts in BRI regarding legal science collaboration is the New Silk Road Alliance of Law Schools, which Prof. Nuotio has knowledge since the Alliance's infancy. He recalled that during his visit to Xi'an Jiaotong University in 2014 to give the opening lecture of a Silk Road-related seminar, there was a discussion between him and the then-Dean of Faculty of Law of Xi'an Jiaotong University Wenhua Shan. During the talk for furthering cooperation between Chinese and foreign law schools, the idea of some new arrangement was developed. After some further exchanges and preparation especially on the Chinese side, the alliance was launched in 2015. From the start, the alliance aimed at bringing together high-quality Chinese and foreign law schools and having a regular platform for exchange of ideas and possible collaborations. Each year, the Alliance would hold Dean Meetings (such as the ones in 2016) as well as other academic conferences to discuss BRI-related topics.
The publication "Normative Readings of the Belt and Road Initiative" is the direct result of the conferences. This book is an early reflection of the legal aspects in BRI. In Prof. Nuotio's opinion, BRI is mainly a foreign policy concept, but it is interesting to conduct research on this policy, as the legal aspect of BRI comprises of not only Chinese law, but also international law, especially rules regarding how China deals with its neighbours, how the BRI investments are made and are protected by legal regimes. He also mentioned the reason for this publication is to make the best use of materials published in the conferences, as he believe that all collaborations should be serious and should result in some sort of published works, so that the world at large also can read about the results of the academic collaborations.
General Experience of collaboration with Chinese scholars and institutions
Talking about his experience in China, Prof. Nuotio is very positive about his collaboration as well as visits in general. His recent seminar in Peking University on sexual offences was a success. The proceedings of the seminar, including Prof. Nuotio's presentation and responses from the audience was recently published online (in Chinese), which Prof. Nuotio is very pleased to hear about. For him, although scholars are often responsible for high-level abstract knowledge production, there must be some groundwork done in order for the legal systems to develop. He also noticed that despite the geographical differences, discussions about problems arising from the legal systems of different countries, such as China and Finland, are almost always the same, thus comparative studies would play a vital role in assisting the development of legal systems.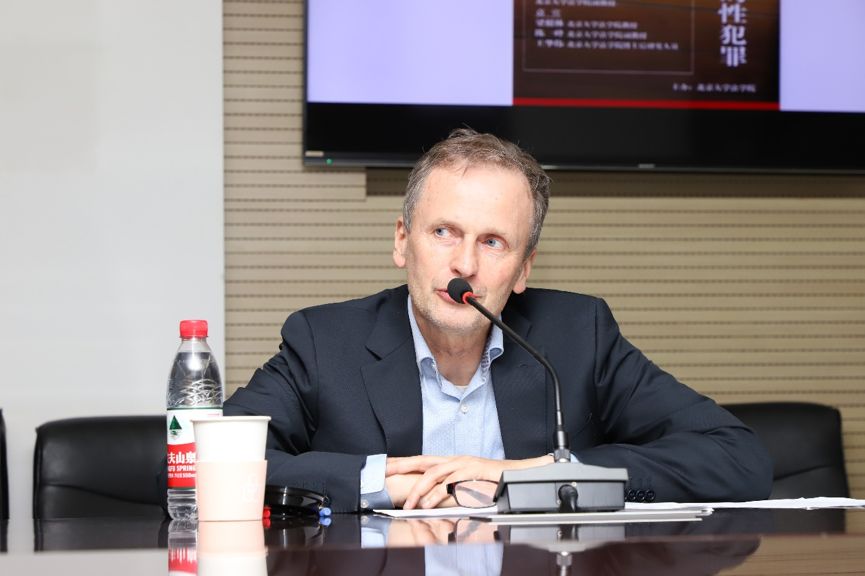 From there, Prof. Nuotio also spoke about his general perception about collaboration with Chinese scholars and institutions in general. He regarded Chinese scholars highly for their openness and frankness. As a criminal law professor, he reckoned that sometimes society has wicked problems that must be confronted and solved, and scholars must be able to openly and freely discuss these problems. He noted the importance of scholars to be able to speak and exchange ideas freely, as only honest and frank exchanges among scholars are meaningful and productive.  He also noted the huge differences in social and political systems between Finland and China, and thought that it is the scholars of that legal system to solve their respective problems with their own ways. The academic exchanges were, in his opinion, rather to tell about experiences on how the respective sides have dealt with the problems commonly faced, and what are the reflections of developments or policies concerned.
Background of Prof. Kimmo Nuotio
Prof. Kimmo Nuotio is a renowned legal scholar with Chinese collaboration experience. He is currently the professor of criminal law at University of Helsinki and is chairing the Strategic Research Council. Previously, he was the Dean of the Law Faculty at University of Helsinki between 2010–2017, and was also the chair of the board of China Law Center between 2013–2019. He also has experience in collaboration with Chinese scholars and working with Chinese materials, including several seminars given at Chinese universities and academic institutions, as well as a journal article on comparative perspectives between Finnish and Chinese law — "the transformation of criminal law and criminal law theory in Finland and China". He also recently edited a book concerning the Belt and Road Initiative — "Normative Readings of the Belt and Road Initiative". He was also appointed as a member of Peking University Law School's new Global Faculty in 2018.